Are you tired of clunky, unreliable tracing methods that never produce viable results? A light box is a remarkably useful tool for any artist, designer, and creative professional looking to make the most out of their drawings. Of course, you can use tracing paper, but it is often a slow, time-consuming, and uninspiring process. In addition to that, there is a really big risk of ink or color smudging, which can, in turn, ruin your work.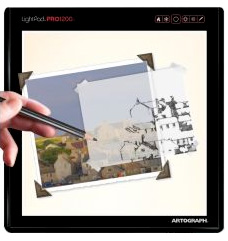 Light boxes are tablet-shaped devices with a LED-backlit area. To trace, you have to place the reference image on the light box, then place a blank piece of paper on top.
Using a tracing light box can be an excellent way to trace pictures properly, making for a unique and one-of-a-kind feel. Keep reading to learn more about how you can do it.
Now, as you turn on the light of the light box, you will be able to see the reference image that hides under the blank sheet of paper. High-end light boxes will even shine through 300 lb. watercolor paper!
Finally, you can simply trace the contours of the reference image onto your paper. But before doing so, there are a few tips you should know to get the best out of a light box.
Using the Right Luminosity
One of the most important things to know about tracing with a light box is to set the right luminosity. There is no set rule when it comes to brightness. It might really depend on the environment where you're working in, as well as your personal preference and the specific material you find yourself working with. Lucky for you, most light box models have adjustable brightness that will allow you to create the best conditions for a smooth trace. Some devices will even remember the brightness of your last use: a very convenient feature!
Size Matters
Make sure that the size of the light box you are using is actually compatible with the size of the paper that you are using. Some people get by with smaller light boxes, moving the paper around, but it is really far from ideal, and it often does not lead to optimal results. For this reason, you should definitely consider using a light box that actually will suit the size of your projects.
Using the Right Paper
Obviously, this is also a matter of personal preference, but you definitely should consider experimenting with various types of paper, considering different thicknesses as well as other variables, which might end up affecting your final result. The choice of paper type is naturally also based on the technical specifications of your light box. There are many light box models out there, but not all of them are the best for tracing. It's important to do some research to understand your options and figure out which product will serve your needs better. For the best results, choose a light box that can shine through two pieces of thick paper. Who can the most, can the least!
In conclusion, using a lightbox to trace is quite easy, if you follow the above-mentioned recommendations! There is no better way to transfer a picture onto a piece of paper quickly and accurately.
Free-hand drawing can be a complicated step forward, but in the meanwhile, tracing pictures with a light box can help you to learn more about the art of drawing, and improve your technique.
Matteo
Matteo is a professional graphic and web designer. Image editing and digital drawing are therefore part of his daily life.