Drawing and tracing without using a light box is a bit like trying to paint on a canvas, without using an easel: you can do it, but it's unpractical. Sure, all you need to draw is your pencil and a sheet of paper, but the subtle nuances of your artistry might get lost without proper daylight illumination.
Not to be confused with a light table , a drawing light box provides a surface that is evenly backlit by LEDs. It enables artists to draw with enhanced accuracy, regardless of their environment. Whether you are in a design studio, in a coffee shop, on a train, or at school, you can use this tool to get the right brightness for your material.
You can also use a light box to trace a picture onto a non-transparent (still translucent) piece of paper such as drawing paper, sketch paper, watercolor paper, Canson paper, or stained glass paper. This is great news for people such as illustrators, who can use tracing light boxes to ink a comic strip directly from the pencil sketch, without the need for tracing paper or carbon paper.
In short, light boxes – sometimes referred to as light pads or light boards – are a true game-changer for artists and designers. However, with so many models available on the market, it can be daunting to determine which one best suits your needs.
Things to Keep in Mind When Selecting Your Drawing Light Box
When choosing a drawing light box, it's important to consider your specific needs and make sure that the device you end up picking will match your expectation. Keep reading to learn more.
Dimensions
Do you need to take your drawing light box around a lot? If so, you should consider the possibility of picking a model that comes in A4 size. This is a great option for a relatively lightweight, portable item that will seamlessly fit in your backpack. If you prefer to use A3 or A2 paper sheets, you'll find a larger device preferable instead. A3 is a fairly common size for most applications, while A2 is great for larger portraits such as full-bodied drawings.
Luminosity
As the name itself might imply, a great drawing light box should have good illumination. If you need one for tracing, make sure that it can shine through 2 sheets of thick paper. If you want to get technical, aim for a device that can produce at least 3000 lux. If you only aim to draw or work on other artist projects such as quilting or photography, 1500-3000 lux will suit your needs perfectly well. The vast majority of devices out there feature adjustable brightness, so you can dim or brighten the light to the level that suits your project. Generally, they offer 3-5 levels of brightness, but top-of-the-line products allow you to adjust the brightness continuously.
Color Temperature
Color Temperature indicates the hue (color) of a light source. It is expressed in degrees Kelvin (K) and ranges from 1000 K to 10000 K. Color temperatures under 3000 K are called "warm colors" (yellowish), while higher color temperatures (9000–10000 K) are called "cool colors" (bluish). The color temperature of daylight is about 6500 K. It is used to promote relaxation and true color rendering, while a blue skylight (≥9000 k) is used to enhance concentration.
Power Supply
In most cases, powered light boxes with their own power supply are actually brighter than their USB-powered counterparts. The latter must be connected to a computer to operate, although USB chargers are often available as well. On the other hand, with a USB-powered device, you can get a car charger or an external battery and thus have a completely portable light table that you can use everywhere.
Overall Quality
You should know that general stores sell a large number of Chinese generic products. Bad quality LED technology, fragile and faulty cables, no after-sale service, etc. are some examples of common problems with poorly made Chinese devices. Of course, we should not generalize as some Chinese manufacturers produce good quality products. So, be sure to read customer reviews before choosing a LED light box from an unknown brand. However, to avoid disappointment, you are better off with a product from a reputable brand.
The Best Light Boxes in 2023
We reviewed the best drawing/tracing light boxes for artists and created 2 comparison tables to help you pick the one that meets your needs. The first table is dedicated to A4 light boxes, and the second to A3- and A2-sized models.
Artograph
LightTracer
Format : A4
Lit Area : 10″ x 12″
(254 x 305 mm)
Color Temperature : 6500K
Dimmable :
Max Brightness : 14000 lux
Power Supply : Wall Adapter
Rating :
Read our review
Daylight
Wafer 1
Format : A4
Lit Area : 9.0″ x 12.5″
(230 x 320 mm)
Color Temperature : 6000K
Dimmable :
Max Brightness : 3200 lux
Power Supply : Wall Adapter
Rating :
Read our review
LitEnergy
A4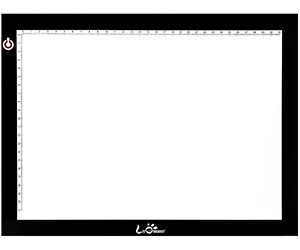 Format : A4
Lit Area : 9″ x 12″
(230 x 305 mm)
Color Temperature : 9000K
Dimmable :
Max Brightness : 4000 lux
Power Supply : USB (Type-A)
Rating :
Read our review
Huion
LB4
Format : A4
Lit Area : 9.0″ x 12.5″
(230 x 320 mm)
Color Temperature : 9000K
Dimmable :
Max Brightness : 1500 lux
Power Supply : Lithium Battery
Rating :
Read our review
Artograph
Lightpad 930 LX
Format : A4
Lit Area : 9″ x 12″
(230 x 305 mm)
Color Temperature : 6500K
Dimmable :
Max Brightness : 5000 lux
Power Supply : Wall Adapter
Rating :
Read our review
See the A3/A2 Light Boxes

Artograph LightTracer: The Brightest Tracing Light Box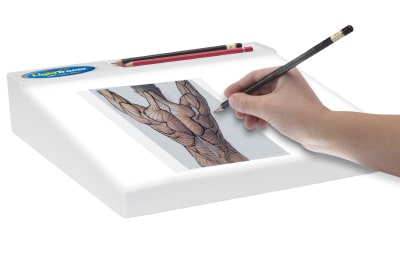 The Artograph LightTracer is a great choice for an affordable device to do all your drawing, quilting and calligraphy needs. It's particularly well suited for tracing, thanks to its very bright surface (14000 lux).
The LightTracer series is proudly made in the USA. It's made from durable ABS plastic and weights under 3 lb (1.5 kg). It features a convenient design with a comfortable slanted lighted surface, making it it a whole lot easier to work on sketches and drawings. The Artograph LightTracer also has an integrated tool tray, which is a handy place to keep pencils, eraser, rulers and other drawing tools at your fingertips.
With its super-bright surface, the Artograph LightTracer is without a doubt one of the best light box for tracing.
Daylight Wafer 1: an Extra Thin Drawing Light Board
Established in London in 1987, the Daylight Company is one of the leading innovators in quality lighting in the art sector. Like everything that this brand manufactures, the Wafer 1 offers daylight light source, providing true color matching. In addition to creating a vibrant working environment, a color balanced lighting is very helpful when sewing or viewing negatives.
In addition, the illumination is flicker-free and even across the entire surface. By holding the on-off button, you can adjust the tablet lighting according to ambient lighting and paper thickness/weight. Max brightness is lower than that of Artograph LightTracer, but it is plenty enough for most uses.
Last but not least, this light board is made of solid plexiglass, making it very lightweight and durable. It also features a handy printed ruler guide.
LitEnergy: Great Value for Money
This is a USB-powered light board for drawing that is good value for the money. Flicker-free LEDs provide even illumination across the entire lit area, and stepless brightness control (from 0 to 100%) allows you to adjust illumination freely to your needs. The brightest setting (4000 lux) is plenty enough to trace using 2 sheets of 140 lb watercolor paper.
Moreover, the LitEnergy portable light table is ultra thin (0.2 inches / 5 mm), very lightweight and it can easily fit into a document-case, along with your sketchbook, your drawings and/or your illustration portfolio.
With its great features and affordable cost, this device is one of the best entry-level light boards around. It is a great choice for children who want to practice and
learn how to draw
.
Huion LB4: The First Battery Powered Drawing Light Box
Huion is a Chinese company that manufactures all kinds of devices for artists and designers: graphic tablets, stylus pens, pen tablet monitors, drawing light pads… The Huion LB4 is a great LED light pad: it is ultra-slim, light, and beautifully made. Illumination is uniform, and the brightness is dimmable from 0% to 100% (the power button acts like a dimmer switch: you just have to press and hold it to change the brightness).
It is worth noting that the Huion LB4 is the first drawing light box ever with a rechargeable Lithium battery. It has an autonomy of 5 hours, during which it can be used completely wirelessly. It's the perfect portable drawing board! However, the max brightness (1500 lux) is relatively low compared to the other devices on the market. Therefore, we wouldn't recommend this model for tracing.
Artograph 930 LX: the American-Made A4 Light Pad
The most renowned tracing light boxes are made in the USA by Artograph (based in Delano, Minnesota). The LightPad® LX series offers superior quality products, with an elegant design and an exemplary finish. Moreover, these items are extremely resistant thanks to their aluminium frames and reinforced chrome-steel corners.
High quality LED lights provides a perfectly even illuminated surface with a color temperature of 6500K (daylight). The lifetime of the lamps is 50 000 hours, which corresponds to 17 years if the device is operated for 8 hours a day. The Artograph LightPad 930 LX has adjustable brightness (from 500 to 5000 lux) so you can brighten or dim the light to suit your tracing needs. Its super brightness (Artograph makes the brightest light tracing tablets), reliability and comfort of use make it a great choice for everyone from draftsmen to scrapbookers and photographers. It's probably the best tracing light box on the market.
Wafer 2: A3 Light Box for Drawing With Daylight Illumination
The Daylight Wafer 2 uses state-of-the-art technology with low heat emission LEDs and natural daylight illumination, providing perfect color matching qualities. The illumination is perfectly even and dimmable down to 10% brightness. The brightest setting (2300 lux) is bright enough to allow you to trace from light sketch paper onto watercolor or bristol paper.
The device is slim and surprisingly lightweight for its size: 3.6 lb (1.6 kg), making it easily portable. Moreover, there are rulers (with graduation in both inches and centimeters) on the top and left edges of the plexiglass surface, which can be useful for drawing architectural plans.
All in all, this drawing light box is an excellent value for money product.
Huion Lightboxes in A3 and A2 Size
Huion A2, LB3, and LA3 lightboxes will surprise you with their affordability and overall value. They are compact, evenly lit, and feature continuous dimming control.
The maximum brightness of the Huion LA3 is very high (4500 lux), while that of the Huion A2 and Huion LB3 is much lower (⩽ 2000 lux). This light intensity of 2000 lux is high enough to make a drawing on white paper, but if you plan to use colored Canson sheets, you will need to choose a model that offers more intense lighting.
Also of note, the LB3 is battery-powered, which makes it very mobile: you can trace or just draw absolutely anywhere you want.
However, be careful before choosing the A2 model, because the dimensions of its lit surface are smaller than those of an A2 page (12.6 x 20.5 inches / 320 x 520 mm instead of 16,54 x 23,39 inches 420 x 594 mm). So make sure that it is the right size for the sheets you usually use.
Artograph 940 LX: The Best A3 Light Pad
The 940 LX by Artograph feature the same lightweight yet robust aluminum design as the 930 LX, but with a larger lit area. The robustness of Artograph products is particularly reassuring when it comes to large format LED tracing pads.
As usual with Artograph, high-intensity LEDs provide a perfect, evenly lit surface, and the brightness is continuously adjustable, from 500 to 5000 lux. An intensity of 5000 lux allows you to trace with ease through thick paper.
With all these high-end features comes inevitably a high price tag. This A3 light pad is therefore a premium product that is intended for artists or architects who will frequently use their light box for drawing or tracing, and won't compromise on quality.
How Using a Light Box Can Improve Your Drawing Skills?
Many beginners artists are intimidated by the idea of drawing freehand. Tracing is a great alternative, as it provides a starting point for learning about composition, line quality, shading, and overall design, without worrying about getting the proportions and shapes exactly right. Additionally, tracing can help build hand-eye coordination, which is essential for drawing.
Using a tracing light box is actually the best way to faithfully reproduce artworks, and therefore it's a great way to begin the process of learning how to draw.
Why Should You Use a Light Box Instead of Tracing Paper to Trace?
For decades, tracing paper has been the go-to option for transferring images. However, in recent years, the use of light boxes has become increasingly popular as a more efficient and precise alternative, offering several benefits over tracing paper. These benefits include: improved visibility due to the bright and evenly lit surface, reduced risk of smudging ink or color, and reusability, making it a cost-effective choice in the long run.
How to Use a Light Box for Tracing?
A light box is used for tracing by placing a piece of paper on top of the light box and then placing the image you want to trace underneath it. The light from the light box will shine through the paper and make the image easier to see and trace. To use the light box: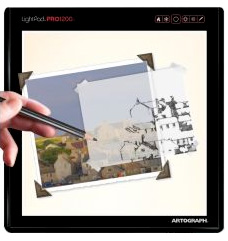 Since light boxes are tablet-shaped devices with a LED-backlit area, to trace, you simply have to place the reference image on the light box, then place a blank piece of paper on top.
Now, as you turn on the light of the light box, you will be able to see the reference image that hides under the blank sheet of paper. High-end light boxes will even shine through 300 lb. watercolor paper! Finally, you can simply trace the contours of the reference image onto your paper.
But before doing so, there are a few tips you should know to get the best out of a light box:
Using the right luminosity: Make sure that the size of the light box you are using is actually compatible with the size of the paper that you are using. Some people get by with smaller light boxes, moving the paper around, but it is really far from ideal, and it often does not lead to optimal results. For this reason, you should definitely consider using a light box that actually will suit the size of your projects.
Size matters: Make sure that the size of the light box you are using is actually compatible with the size of the paper that you are using. Some people get by with smaller light boxes, moving the paper around, but it is really far from ideal.
Using the right paper: Obviously, this is also a matter of personal preference, but you definitely should consider experimenting with various types of paper, considering different thicknesses as well as other variables, which might end up affecting your final result.
Illuminating the Possibilities: A Light Box for Drawing and Beyond
A light box is not only useful for drawing and tracing, but it can also be incredibly versatile and helpful for many other activities. Photographers can use it to view slides or negatives, while crafters and other artists can employ it for tasks such as scrapbooking, calligraphy, serigraphy, embroidery, and quilting. Airbrush painting is another great use for a light box, as it helps to minimize any shadows that may occur when working with traditional lighting sources. By preventing the artist's hand and airbrush from casting unwanted shadows on the work surface, the light box allows the artist to have a clear and accurate view of the result of their spraying. The potential applications of light boxes are truly endless, making them a valuable tool for anyone who loves to explore and express their creativity.